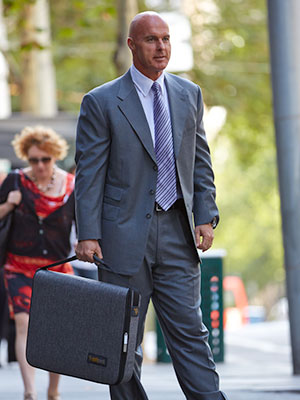 SuitPack Pty Ltd was founded in 2010 by Scott Fraser — an Australian businessman and owner of an International Freight Forwarding Company — with the sole aim of developing a suit carrying system that actually worked.
For many years he had travelled extensively on business and was always on the lookout for a device that would enable him to travel with a suit and not have to worry about how badly it was going to be crushed.  It was one of the greatest sources of stress of Scott's business travel. His home-made wire frame was clearly not working, and the solutions presented by the travel goods industry were all failed adaptations of a coat hanger. During some down time whilst on a trip to Europe, Scott started to think about how he would solve the problem, contacted a Design Company and entered the world of Product Development.
After initially gaining an understanding of the science behind wool blend fabrics and the causes of creasing, Scott developed several iterations to prototype stage. None, however, met the high level of performance, predictability and adaptability that he was demanding. Frustrated with the slow progress, he finally spent 4 days in his garage making over 50 "mock ups" — the final one containing the fundamental structure of the current design. This was developed and initial prototypes were taken to the Travel Goods Association 2013 Show in Las Vegas. There he received overwhelmingly positive feedback on the market's need for a product like SuitPack and many helpful tips on how the prototype could be altered to make it more user friendly. It took a further 12 months to incorporate the alterations and sign off on the finished product.
Scott is now joined by a team who are focussed on providing the highest level of service to their growing Customer and Distributor base, and on promoting SuitPack globally and adapting the design to other forms – both in the retail travel and fashion transport sectors.